Following the major worldwide success of his
45" TUCANO
, Nigel Hawes has followed this up by designing a PANAVIA TORNADO of the same wingspan - although overall the model is MUCH bigger!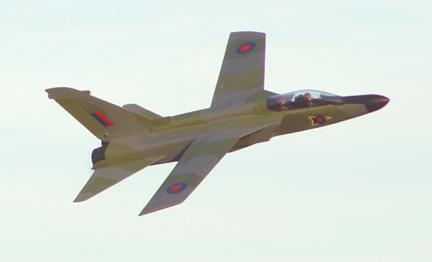 Most TUCANO student pilots at RAF Linton-on-Ouse are streamed for fast jets and the TORNADO is the ultimate next step for the elite - so what better progression than a model TORNADO as a next step from your TUCANO!
Nigels twin pusher Tornado

1 minute 40 seconds video of one of Nigel's Tornados in twin pusher configuration

3.05MB
Speed E Freak's single tractor Tornado

3 minutes 10 seconds video of Speed E Freaks's Tornado in single motor tractor configuration

5.9MB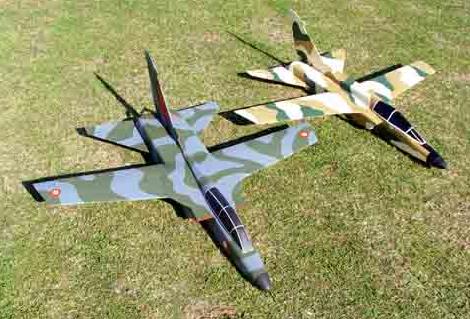 The model features some radical design principles, allowing air right through the intakes. For the twin BL 400 pusher version, this supplies air to the normally blanked inner arcs of the pusher props, increasing efficiency. For the single front-motored version, this reduces drag and avoids the "ramping" effect that a blanked-off intake would have at high speed.
Together with its flat sheet wing, which is impossible to tip-stall, the model flies like a dream and has low-speed handling qualities that you simply wouldn't believe. In a breeze it can be hovered 30 degrees nose-up like a kite, and slow high-alpha passes have to be seen to be believed.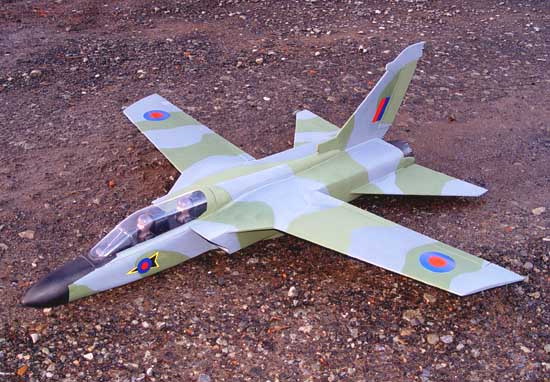 Flat out, the model flies just like a jet, with scale roll rate from the small strip ailerons and delightful loop, roll and inverted characteristics.
It has been designed specifically for Brushless motors as its large surface area makes for quite a lot of drag. However if you aren't too bothered about performance and adore the profile of the Tornado in the sky, this model will happily fly on two cheap QRP HYPER 400 RVs and 9 cells, or a FANFARE geared buggy motor in the front.
A complete kit is now available for this model! The kit is brimming with the type of superb quality balsa that all Nigel Hawes kits are world famous for, all accessories and linkages are included as well as a clear moulded canopy, vac-formed rear deck and black jet-pipes.
The kit, INCLUDING P&P within the UK is £70. Please enquire for International shipping rates, which will only be charged at cost and may even be subsidised!