Feedback has suggested that there are STILL some heathens out there living in the "dark ages" of aeromodelling and using fossilised remains of antique power systems. For this reason, for the first time BVR KITS have developed and released an i.c. conversion which gives the WHIZZZA amazing performance on a .20 to .25 relic. Full details of the conversion are shown below.
| | |
| --- | --- |
| | The i.c. version uses a slightly wider former 7 as shown on the plan, and the throttle snake is glued to fuselage side 6 between a gap that has to be made in main doubler 5 as shown here. |
| | The firewall is cut from 1/4" (6mm) birch ply to the dimensions shown on the plan. Before fuselage assembly, it should have engine mount, fuel pipe and throttle snake holes drilled where required, and a strip of corresponding balsa glued across the top. |
| | The conversion has been designed to accept a SLEC 6oz SQUARE fuel tank which is a snug fit when the fuselage sides are joined using former 7 and the ply firewall. Note that the 65mm lengths of flat-edged triangle stock are glued right behind the balsa strip on the top of the firewall. |
| | The front upper deck has been made deliberately narrow to ensure that you properly shape the nose! We don't want any Lada car Whizzzas! |
| | Underside arrangement of the i.c. version, showing the two hatches 11 and 11b screwed in place, with the front lower sheet/cowl underside 9 having been blended into crossgrain piece 9b. |
| | After firmly securing the engine mount, build up and shape the cowl cheeks using the thick 3/8" (10mm) lower sheet and 3/16" (4.5mm) sides scrap balsa infills as shown here. As i.c. relics are oily and slimy (UNLIKE ELECTRIC MOTORS) you will have to thoroughly fuel proof the entire nose area before covering. Ensure that the engine angle is such that the silencer aims all effluent gunge UNDER the wing, but will not contact the ground when landing. |
Alan Ballard put a whopping Irvine .39 on his WHIZZZA and found it to be rather "exciting"! This goes to show just how much power the WHIZZZA airframe can take, some are now putting .46s on theirs!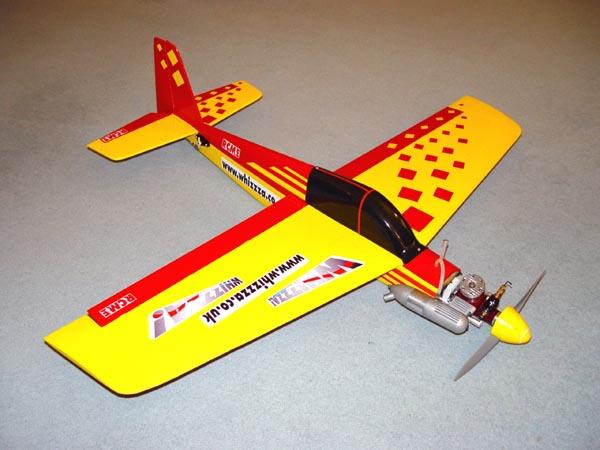 Click
here
to read how the Warwick club (which now boasts 20 examples) have been completely blown away by the performance and handling of the WHIZZZA!